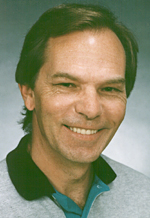 Like most kids, I liked to draw and color. My dad introduced me to cartoons, oil painting and murals. He'd draw cartoons about his construction buddies' antics and then give them away. I watched as he painted wild life scenes on canvas boards. And the first portrait painting I ever saw was a picture he did of my mom. But I guess what made the greatest impression on my young imagination were the murals he drew on our bedroom walls!
Dad used crayons as I remember. The images of mountain lions spooking horses, wild stallions fighting, deer and elk grazing in a mountain meadow, all had a lasting effect on me. And not only me—my "little" brother is now a fantastic metal artist, and my sister works in glass.
Then came the late 50's and 60's—model cars, TV, cartoons on prime time, color movies and animation. All of this just added fuel to my fire. I got my first airbrush when I was 14 years old and began doing "Ed Roth" style toons at car shows and for schoolmates.
I got married in 1967 (still am, and to the same woman, how's that for unique!) and got a job drafting. That lead to graphic art, which in turn evolved into twenty years of technical illustration and graphic art for Ball Aerospace. I added two wonderful daughters to the mix, and I've continued to draw and paint my own stuff—cars, cartoons and wildlife... Funny, now that I look back, I'm doing the same thing as when I was a squirt!
Well, look around, enjoy yourself, and drop me a line to let me know what you think: Martsline@msn.com